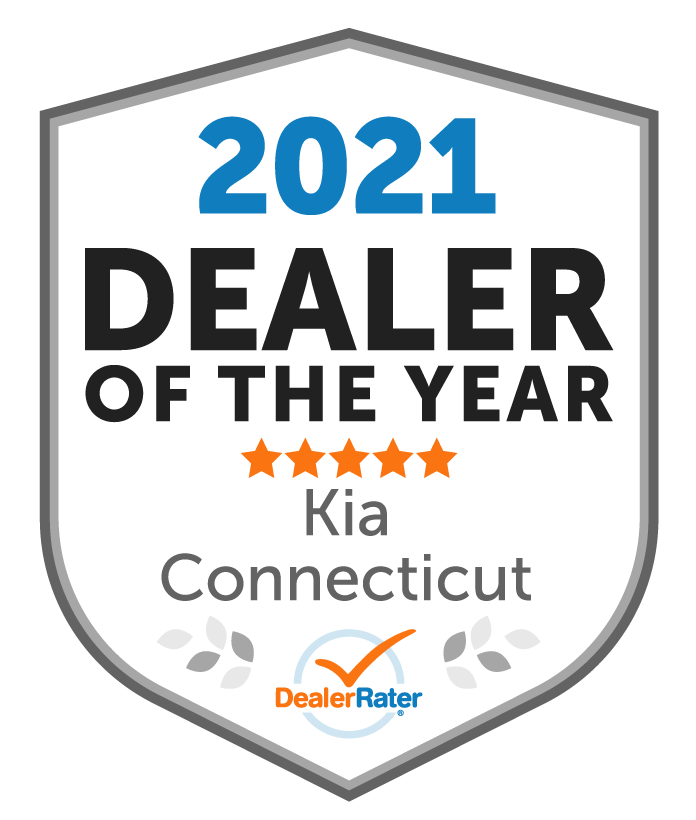 Premier Kia Of Branford Clinches 2021 DealerRater Kia Dealer of the Year Award in Connecticut for Superior Customer Experience

Across Connecticut, Premier Kia Of Branford is Best-reviewed by Kia Shoppers
Branford, CT - 2/2/2021 - Premier Kia Of Branford is awarded a 2021 Dealer of the Year Award by DealerRater, a leading car dealer review and reputation management platform and company of Cars.com Inc. (NYSE: CARS). Dealer of the Year Award recognizes auto dealerships across the U.S. and Canada that are evaluated first-hand by shoppers and report best-in-class in customer service, quality of work, friendliness, pricing and overall experience in their reviews.  See the full list of winners U.S. and Canada.
"More than one million car shoppers wrote a review on DealerRater.com in 2020, recognizing those dealerships that strived for an outstanding customer experience, and Premier Kia Of Branford stood out among peers in Connecticut," said DealerRater General Manager Jamie Oldershaw. "In today's stay-at-home economy it is critical for dealerships to deliver customer experiences that meet shifting shopper expectations and Premier Kia Of Branford provided superior customer service in 2020."  

Top-Reviewed Dealers Prioritized Digital-First Services and Covid-19 Safety Protocols

Features such as online and video chat, at-home delivery and virtual walkarounds were significant drivers of positive reviews. Forty-eight percent of winning dealers were badged on Cars.com and DealerRater.com for Home Delivery and Virtual Appointment.1   Premier Kia Of Branford has more than 300 vehicles currently badged on Cars.com.
The Dealer of the Year Awards indicate the value car shoppers place on dealers' adaptability to pandemic realities. Dealers who implemented Covid-19 health and safety protocols, such as masks, social distancing, and sanitization, received more positive reviews at a rate of nearly 30 to 1.
For more than five years, we have been committed to selling cars the way a customer wants to buy them by having a customer drive the process and not us" said Robert J Alvine, President of Premier Kia.  "This includes the customer being able to choose how they want to buy - from 100% online to the conventional visit to our facility - to a hybrid of the processes in between.  During Covid-19, while our dealership continues to adhere to strict CDC guidelines, we have found more and more of our customers desiring a remote sales process" . Mr. Alvine continued  "I am proud of our Premier Kia team in winning this coveted award".
Jeff Irzyk, General Sales Manager, of Premier Kia said "We want all of our customers to feel comfortable in the sales process of buying or leasing a new car.  This Kia Dealer of the Year award is a testament to our team and the efforts they have made to change the perception of our customers in how they buy or lease a vehicle. We have a completely transparent sales process and, I am eager for our customers to experience it.  In addition, we are the only Kia dealership in Connecticut that has non-commissioned sales representatives to ensure that only the wishes of the customer are carried out."

Strong Dealer Engagement and Review Response Rate Critical for Success

The digital engagement of employees at dealerships proved especially critical this past year as car shoppers conducted the bulk of their research and vehicle purchase online. A shared habit of recognized dealers is review response rate, with 80% of award-winning dealers responding to customers at double the average response rate.1 Dealers that go above and beyond traditionally respond within 24 hours.
Additionally, about 75% of winners provide their staff with Employee Profile Pages on DealerRater, which allows car shoppers to ask questions and connect with individual salespeople at a dealership before ever stepping on the lot.1
DealerRater Dealer of the Year Award Methodology

The DealerRater Dealer of the Year Awards are presented annually to the top U.S. and Canadian car dealers with 25 or more reviews based on categories such as customer service, quality of work, friendliness, pricing and overall experience, key drivers of repeat and referral business. The scoring algorithm considers the dealership's average DealerRater star rating as well as the total number of reviews written about the dealership during the 2020 calendar year.
Visit DealerRater.com for a full list of winners, U.S. and Canada.
1 DealerRater Internal Data, January 2021
2 DealerRater Internal Data, October 2020
ABOUT DEALERRATER
DealerRater, a Cars.com company, is a leading car dealer review and reputation management platform that empowers dealerships to efficiently grow their brands by accelerating, automating and amplifying positive review generation across digital channels. By offering a product suite that allows qualified dealerships to manage their digital presence and build and maintain their online reputation, DealerRater helps dealers drive new customer connections every day, achieve higher SEO rankings and, ultimately, generate higher-quality leads that close, faster.
Founded in 2002, DealerRater reviews cover 44,000 U.S. and Canadian dealerships, including a network of more than 5,000 Certified Dealers, that reaches an audience of more than 34 million consumers each month.
------

Kia, is a valued member of the Premier Automotive Group, one of the top automotive retailing group in Connecticut.   Premier Kia has led the Connecticut Kia marketplace in growth customer service and customer experience.  The company operates in Branford, CT from the only Kia "Gallery Facility" in Connecticut - that provides both sales and service customers with an unprecedented and completely transparent sales and servicing experience.  The company is approved by the AAA for Kia Service - the only Kia dealership in Connecticut that has such an approval and is A+ rated by the BBB.  In addition, the company is an active member of the community and provides financial support to non-profits throughout the Greater New Haven area.
Press Contact:
Robert J. Alvine, President
Premier Kia
ralvine@premierkiact.com
888-372-9696